 Loading
Play Pause. Can be activated by pressing the Space Bar on your Keyboard apart from clicking on it.
The time line markers allow you to choose a step and jump right there by clicking on it. Mouse over to see which step it is.
---
Want a Replay of the video you just watched ? Click here.
Adjust the volume or mute it from here.
Click on the boxes above to toggle between small player and large player
This is the link to the entire transcript. Neatly divided into chapters you can read it like a manual or click on the play button next to each chapter to watch the Showlet. Right from where you are!

This is your Refer IT button, Click to leave yourself a note ( and find them later in your Showhow2 account ) or post a comment or link related to the Showlet you are watching.

Click to Add to Favourites. You can find it again in your MyShowhow2 space under the Product which will be part of your collection henceforth.

A

A




Use this slider to increase the font size for your comfortable reading.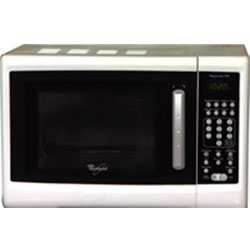 Whirlpool Magicook 20C
20L capacity with 270mm recessed turntable Optimal capacity for a family size of 6-7 people 2 years warranty on magnetron Touch foil control For easy and simple operation Combination Cooking Cooks in solo and grill mode simultaneously for dishes that require advanced browning and cooking Stainless Steel cavity Cavity that helps in heat retention, and enables uniform Microwave distribution by reflecting microwaves to ensure even cooking Memory Function To help you quickly recall a preferred setting stored earlier. Power Levels-11 Empowers you to choose from a host of power levels that ensure minimal wastage of electricity and best in class efficiency in cooking Auto cook Menu 8 auto cook menus for dishes most cooked in a Microwave, at the touch of a button Child Lock A safety feature that locks the settings during the cooking process. It also automatically cuts off the power the moment the door is opened.