 Loading
Play Pause. Can be activated by pressing the Space Bar on your Keyboard apart from clicking on it.
The time line markers allow you to choose a step and jump right there by clicking on it. Mouse over to see which step it is.
---
Want a Replay of the video you just watched ? Click here.
Adjust the volume or mute it from here.
Click on the boxes above to toggle between small player and large player
This is the link to the entire transcript. Neatly divided into chapters you can read it like a manual or click on the play button next to each chapter to watch the Showlet. Right from where you are!

This is your Refer IT button, Click to leave yourself a note ( and find them later in your Showhow2 account ) or post a comment or link related to the Showlet you are watching.

Click to Add to Favourites. You can find it again in your MyShowhow2 space under the Product which will be part of your collection henceforth.

A

A




Use this slider to increase the font size for your comfortable reading.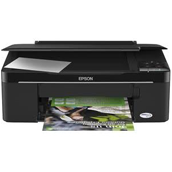 EPSON TX121 Printer
Epson Stylus TX121 is your perfect partner in customized home printing. With a print speed of up to 28 pages per minute, you cut down significantly on waiting time. Printing and scanning have never been this efficient and easy.With a high resolution of 5760dpi, expect exceptionally high, photo-quality prints. In addition, it allows you to create and produce borderless photo prints for all your creative needs.Perform an effortless scan and enjoy hassle-free one-touch copying.Create professional and impressive photos and presentations with Epson's dynamic, user-friendly photo editing and enhancement software, Epson Creativity Suite.