 Loading
Play Pause. Can be activated by pressing the Space Bar on your Keyboard apart from clicking on it.
The time line markers allow you to choose a step and jump right there by clicking on it. Mouse over to see which step it is.
---
Want a Replay of the video you just watched ? Click here.
Adjust the volume or mute it from here.
Click on the boxes above to toggle between small player and large player
This is the link to the entire transcript. Neatly divided into chapters you can read it like a manual or click on the play button next to each chapter to watch the Showlet. Right from where you are!

This is your Refer IT button, Click to leave yourself a note ( and find them later in your Showhow2 account ) or post a comment or link related to the Showlet you are watching.

Click to Add to Favourites. You can find it again in your MyShowhow2 space under the Product which will be part of your collection henceforth.

A

A




Use this slider to increase the font size for your comfortable reading.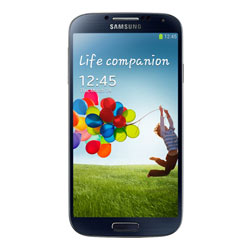 Samsung Galaxy S4
Get the Samsung Galaxy S4 GSM Mobile Phone and the world will follow suit. With an Android v4.2 OS and Quad Core 1.6 GHz + 1.2 GHz processor, this black phone lets you blaze through your applications. Its 5 inch Super AMOLED touchscreen offers a full HD viewing experience. The 2 MP front camera lets you chat with your friends as if face-to-face. Other features include 3G support, Wi-Fi 802.11 a/b/g/n/ac, A-GPS, GPRS, EDGE, Bluetooth v4.0, microUSB v2.0, WAP v2.0, 2 GB RAM, ChatON, GTalk, Samsung WatchON, Samsung Kies, Kies Air, Android and Chrome browser. The internal memory of 16 GB in this Samsung Android phone can be expanded up to 64 GB which lets you store all your important documents and data. This Android phone also features Document Viewer, Loudspeaker, Wi-Fi Hotspot, GLONASS with Google Maps, Smart Scroll, NFC Support, Sorenson Spark, S Voice Drive, Samsung Hub and Smart Pause.